21/12/2021 –  Spearline Help Center
What is the new feature about?
The Help Center is a resource where customers can find answers to their questions and solutions to their problems. Designed to resolve many common queries that Spearline receives, our new Help Center will provide answers to frequently asked questions along with other information which may be helpful, such as, monthly Release Notes for bug fixes or new features which have been added to the platform.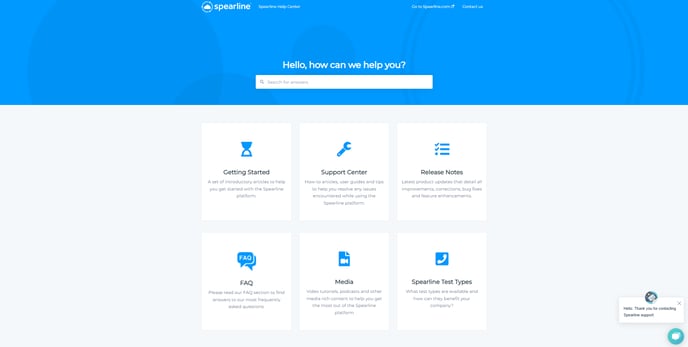 What has changed after the new feature release?
A new Help button will now be visible on all pages of each of Spearline's products.
Voice Assure In-country
Voice Assure Interstate
Voice Assure Realtime

The Help button will be located next to the Log Out button which can be found top right of the screen.
How is it going to make any difference for customers?
By clicking on the Help button, users will be redirected to the Spearline Help Center where they can find helpful information under the following topics.
Getting started
Support Center
Release Notes
FAQ
Media
Spearline Test Types
What can customers take advantage of?
It will now be easier for customers who may be experiencing issues on the platform to help themselves where possible and to find answers to some of their questions along with further information which can improve the experience of using Spearline's products. If a solution is not provided, a direct link is available to contact Spearline or to open a ticket with the Spearline Support Team, who will help to resolve your issue.